Yesterday I got a much needed haircut, I can't believe it has been 5 months since my last one. When I saw my hairdresser she was so happy to hear that I hadn't changed hairdressers, she had begun to wonder since it had been so long. Although the truth is she would have to do a really bad job for me to switch, I get a cut and color and eyebrow wax for $35 or just a haircut for $15. I'd be a fool to go anywhere else. She doesn't give everyone that same deal, but I found her when she was new out of beauty school and I sent her a lot of people from work to help build her clientele so she gives me a good deal.
So when I went to see her yesterday I was thinking about doing something a bit different than the usual, so I decided to cut bangs. I brought in these two pictures and let my stylist pick which one would work best for me. She picked the one on the bottom of Ashley Olson.
I tried to take a self portrait to show you my version of Ashley Olson's hairdo, but my picture looks really blah next to glam celebrities. So you'll just have to wait and see me for yourself.

I like the bangs, they are a bit hard to get used to, I keep wanting to brush them off my face, but I'm glad I did it. Something different for a change.
Todd's response to my new haircut was that he doesn't really like bangs! Normally I would welcome his opinion on such things, but most of you know that we have had an ongoing battle over his current hairstyle. He has decided to let it grow, it has been 9 months since his last haircut and the time before that he waited over a year. It all started with a silly bet he made with his mother that she meant as a joke, but Todd was up for the challenge. I think the bet was something like $500 if he could go a year without cutting it.

So I told him that as soon as he cuts off the ponytail I will grow out my bangs. Unfortunately I don't think that is going to happen anytime soon. The last thing I heard on the subject of him cutting his hair was that as soon as Notre Dame goes to a bowl game he'll cut his hair. So folks it looks like its going to be a while. I'm hoping he's not serious, but I try to leave him alone about it, it seems the more people tell him to cut it the more stubborn he gets.

Here is a picture of his current hairstyle:
And here is a picture of what it used to look like. This is a picture from our honeymoon in Dominican Republic.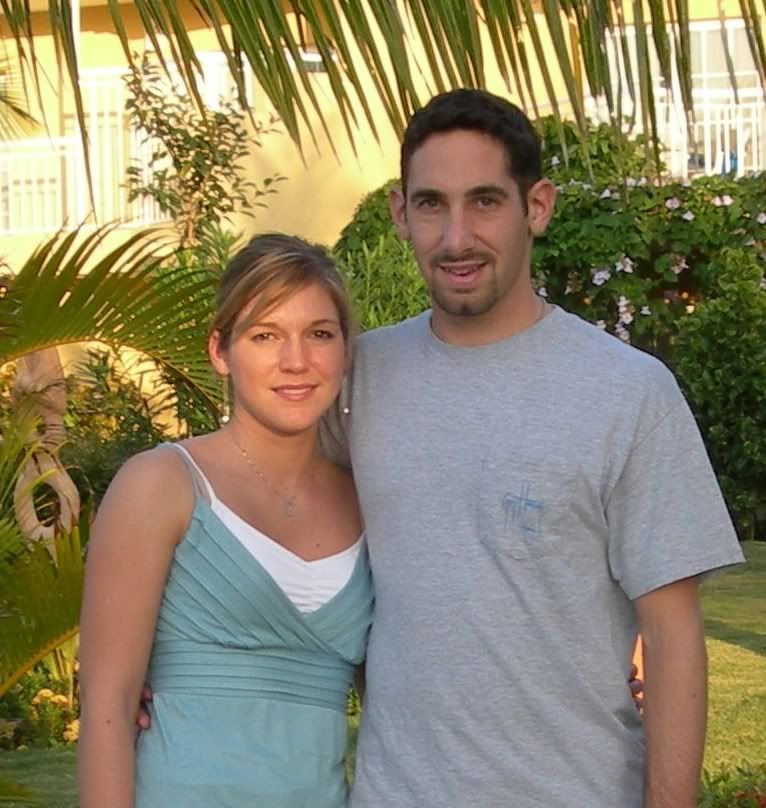 (Ahh, the good ol days when my stomach was somewhat flat, although I'm sure I probably thought I was fat at the time)