I seem to be coming down with a cold, I have had a sore throat for 2 days and tonight when I was over at my sisters house visiting with my mom and Rachael's kids, I was sneezing nonstop and very congested. I think I am allergic to their dogs and cat, because I normally sneeze a lot when I'm over there, but that wouldn't explain the sore throat so I think I really do have a cold. My mom said that when she was pregnant with all of us kids (all 6 times) she got a cold every single time one week before she went into labor. So she is predicting that I will have the baby by next Friday. This could create a problem since my doctor is out of town next Friday for the Thanksgiving weekend, and my sister Rachael just happens to be the doctor on call. I'm not sure how I feel about having my sister deliver my baby, it's not that I don't think she's a good doctor and all, it just seems a little strange. Apparently she says it's only strange for me, to her it's just a job. Also the hospital has a policy against doctors treating immediate family members. But if there isn't anyone else to do it, they will just have to make an exception I guess.
On the flip side, it would be really great to have this baby because I am so tired of being pregnant! 37 weeks is a long time, and I am ready to be done. Also since mom is in town and my sister from New York is also coming for Thanksgiving it would be nice if I had the baby while they were here so they could all meet the little guy. It also helps that I got the baby room almost ready. Thanks to my mom, we went through all my gifts and organized and put everything away. Just a few finishing touches and the nursery will be all done. I will try to post some pictures soon of the finished room. I even washed all the new baby clothes, sheets and blankets. When the first load of baby clothes came out of the dryer it was actually fun to fold and put away all the cute little outfits, however by the 4th load I was no longer having fun. Also, my car seat and stroller were delivered yesterday via FedEx, so now I think I have just about everything I need. Just need the baby now.
Here is a picture of my new stroller/car seat combo, It's a PegPergo that I thought was going to be a splurge, but then I found it for a great price on the internet and saved $125 off the average asking price, plus free shipping and no tax. I love it when I find a good bargain.
These things are tricky to figure out too. It was rather frustrating trying to figure out how to open and close the stroller, and how to attach the car seat to the stroller.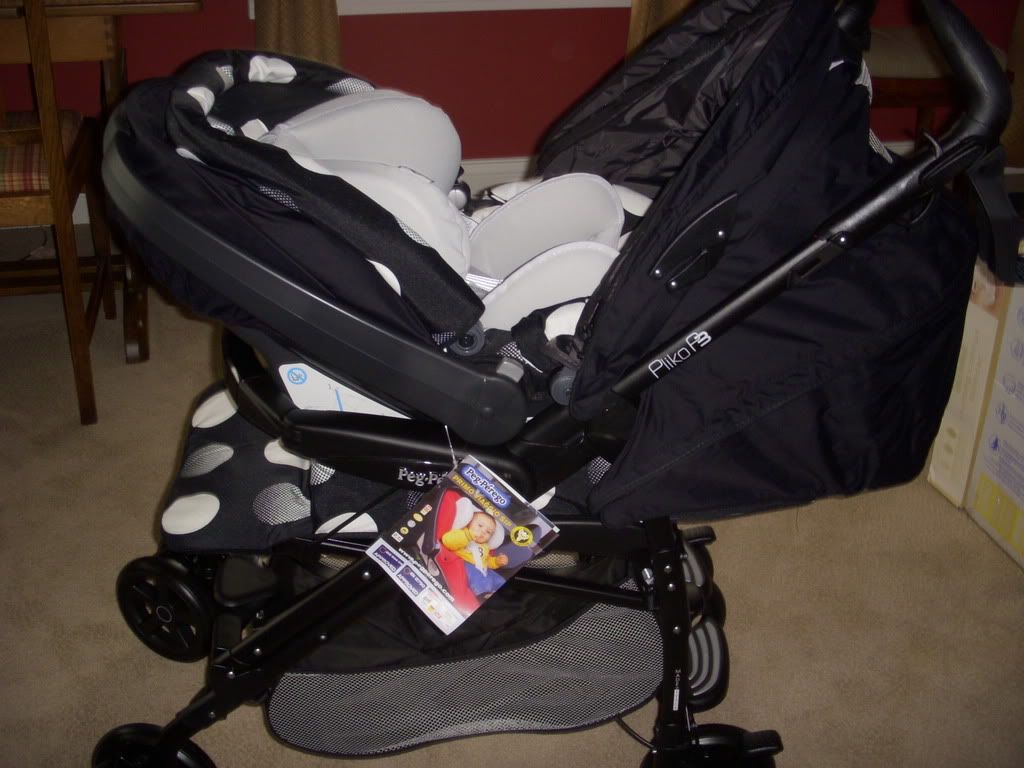 Here is a picture of my new Petunia Pickle Bottom diaper bag that I thought I just had to have, spent too much money on, and now that I have it I don't like it. Unfortunately I can't return it, only exchange it for another one, but all of their fabrics are so bright, which is exactly what I don't like about it. Hopefully I can find something a little less loud. What do you think? Is it too loud?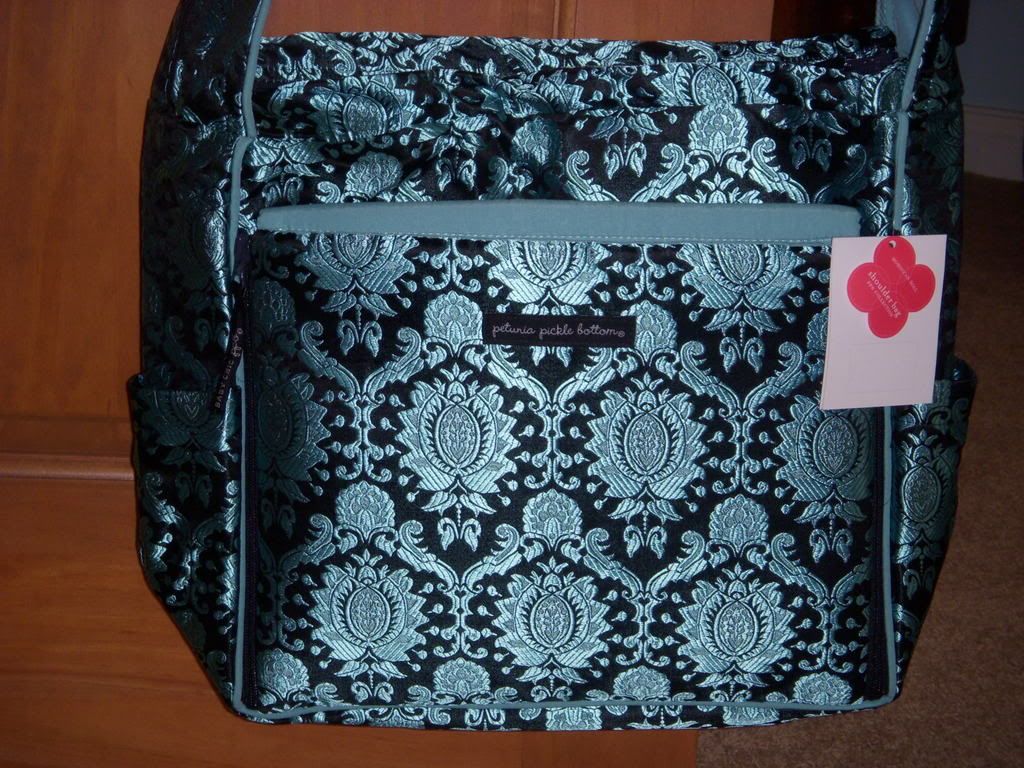 P.S. Rachael if you read this: Can I take Sudafed? The box says to consult a doctor before taking if pregnant, and I really need some.