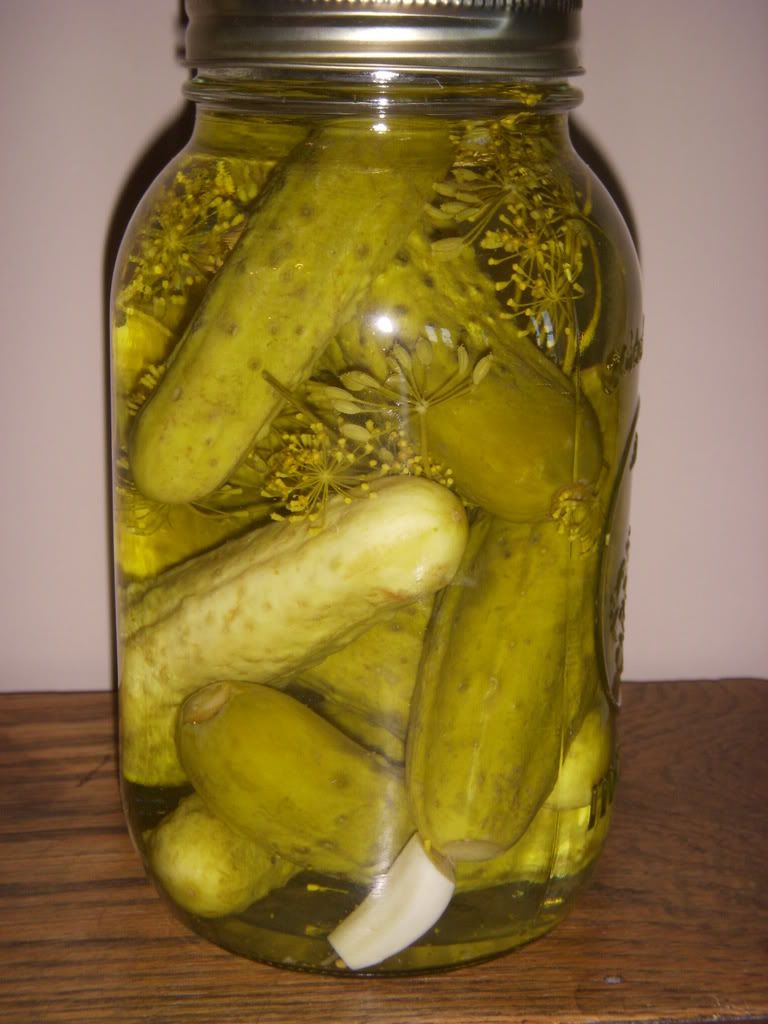 If only they tasted as good as they look!
About 6 weeks ago Rachael and I decided to give canning dill pickles
a try. We had ample amount of cucumbers from the farm, so we gave it our best effort. We were quite proud of ourselves when it was all done. I did not have a blog at the time or I would have blogged about it, but Rachael
blogged about it
, even put our recipe on the blog. If only she knew then what she knows now, she wouldn't have done that! I hope nobody actually took our recipe and used it. It definitely needs some tweaking. I found the recipe online at work, and a coworker suggested we use apple cider vinegar instead of the white vinegar the recipe called for. She seemed like an experienced canner so I figured I should trust her. Turns out she was wrong, even though she still swears that's what she always uses.
After a couple weeks we opened a jar to try the pickles and sadly we were not impressed, they tasted a lot like apple cider vinegar and not much like dill and garlic. This was very disappointing seeing as we had canned 40 quarts! But we decided to give it more time, apparently you are supposed to let them sit for 6 weeks before eating. The other night at work I was talking about the pickles and telling the lady who suggested the vinegar change that I thought that was a mistake and she suggested I bring in a jar and let everyone try them and decide if they are any good, now that it's been 6 weeks. The verdict: Not that bad, can still taste the cider vinegar but not nearly as much and we didn't use enough dill and garlic so there isn't a strong flavor to them. But they are crispy! I don't think I'll have to throw them out, but they're certainly nothing to brag about. And next year we will probably try again, but will use white vinegar and add a lot more garlic and dill. Actually I think I will steal my brother-in-laws recipe, he made sun dill pickles and they turned out awesome.