Okay, so I haven't got much to blog about the last few days. I've had 3 days off and I've done a whole lot of nothing. Well I take that back, I have been painting the bedroom in the basement, but that's really not that exciting, certainly not worth blogging about. I wrote a dumb blog last night about shopping just for the sake of blogging. But then decided to take it off my blog because no post is better than a dumb post right? Or is it? Since I've already written the blog post, I might as well let you read it:
I haven't been shopping all summer at the mall. Since I had to go into SB for other errands, I figured I'd stop by the mall and do a little shopping. I went into Macy's first, and they have all their new fall clothes out and everything was so cute, and I suddenly got the urge to buy some cute new clothes. Unfortunately none of those cute clothes were maternity. Macy's doesn't even have a maternity section. So I decided to wander down to Motherhood. My sudden urge to buy new clothes quickly vanished when there was nothing eye catching that I just had to have or even sort of wanted to have. Since that is the only store in the mall that sells maternity clothes and they only serve one type of customer, they really have no need to draw you in and try to impress you with cute clothes and fancy displays. If you need their clothes you will come in and buy whether you want to or not. Surprisingly though, I think I managed to find a good buy on a new pair of jeans (only $40, what a deal)! The best part is, they don't have that big stretchy belly panel. I have a pair with the big stretchy belly and the denim is stretch too, so every time I squat down they practically slide right off, there's nothing to hold them up. If you think low rise jeans are bad, you haven't tried maternity jeans that stretch everywhere.
Then I decided to go into VS and buy some new pajamas since that is the most comfortable thing to wear these days, and seeing as I sleep a lot, it seemed like a good idea. And it was, other than the sales lady who wouldn't leave me alone, telling me all about the Angels card I just had to have. I got a very cute PJ set. Drawstring is so great.
I also couldn't help but notice scrubs, pj's, and maternity clothes have a lot of similarities. They all have either elastic waistbands or drawstring, they are either plain or wild prints and colors (sort of like wallpaper) that you'd never think of wearing in public. And they're not very flattering. But it's not all bad, their best feature is that they're quite comfortable.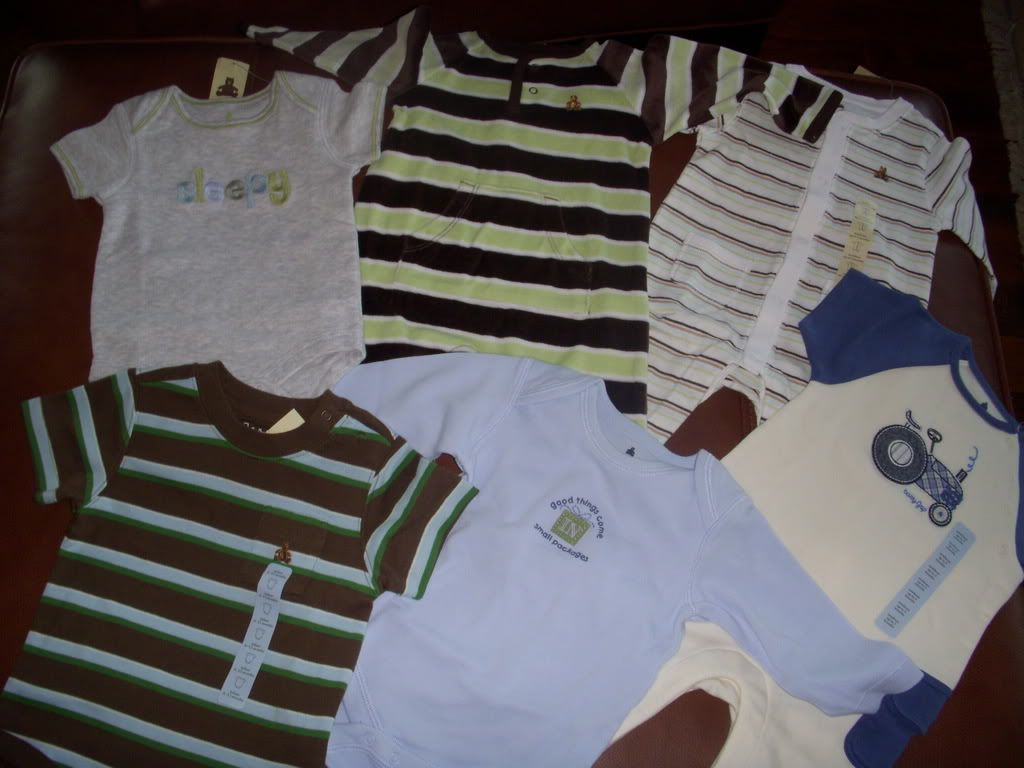 I ended my shopping adventure by going into Gap Kids and buying some cute new baby clothes. I guess if I'm not in the mood to shop for myself these days, I can start shopping for the baby.
Oh, and guess what I got in the mail today? My baby bedding! That was fast, they said 2-3 weeks, and I don't think it's even been one. I guess I better hurry up with the painting. I have the downstairs room almost painted. I have to do it in stages because there is only one small window in there and the fumes get pretty strong.