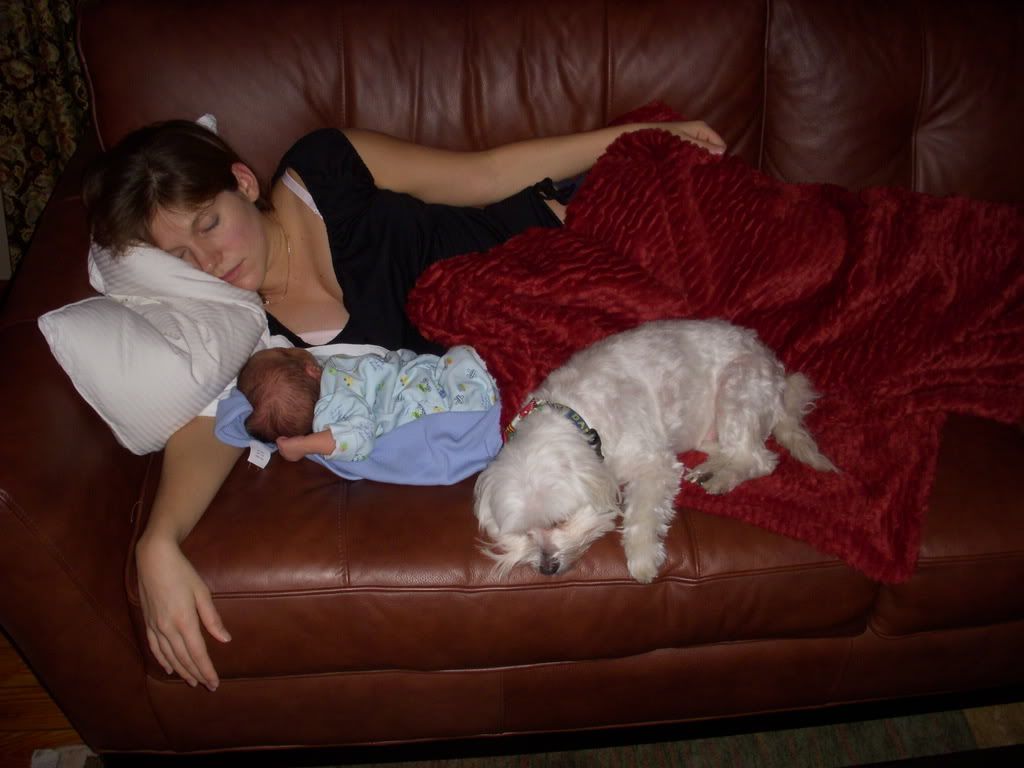 This is what we were doing when Anthony turned exactly 1 week old. A much more pleasant Friday evening I must say. While we napped, Todd was busy on the internet looking at college savings plans. I guess it's never to early to start thinking about that. Apparently if your child starts college at age 18 then you need to save $178 per month starting the first month he's born and that would cover 2/3 of his college education.
Last evening we went over to Rachael's house to let the kids see the baby again. I accidentally left my camera over there, so I wasn't able to post about the haircut. Yes, Todd finally got his hair cut. I told him we were getting professional pictures taken of Anthony and if he wanted a picture with the baby then he had to cut his hair. So daddy got a haircut and we also got a very cool family photo. I will post it when I get the proofs. We also got some very cute baby pictures.
Before

I took a couple days away from the blog to rest whenever I could, I'm starting to get so tired from being up so much at night. Although the swaddling blanket is working great for keeping him in his bassinet, he still wakes up every 2 hours and then it takes at least an hour to feed him and rock him back to sleep, sometimes longer. Usually the 4am wake up is the hardest to get him back asleep and I usually give up and bring him in bed with me. But every night gets a little bit easier, and every now and then he will sleep a good 3-4 hours straight through.
I've been reading on other peoples blogs that Christmas is approaching fast and most people have once again found themselves needing to hurry up and get their shopping done. I keep leaving comments along the lines of yeah, me too but it sort of hit me today that Christmas is only 11 days away. Guess how much of my shopping I've done???? I have about 3 gifts which I bought the day after thanksgiving, and so far that's it. I seriously need to get going! I think maybe I'll leave the shopping up to Todd this year. It would be interesting to see what he would pick out for everyone.
Other good news is that in the one week since Anthony was born I have lost 21 pounds! Now I really wish I'd done a better job of controlling my weight gain. If I'd only gained the ideal 25 pounds I'd be so close. Instead I still have 15 more to go. Yes I gained a whopping 36 pounds. Now if only I could lose another 20 pounds this next week.... I know that isn't going to happen, but wouldn't it be nice.