I've heard from a couple people (Todd included) that I will miss the sleepless nights with my baby when he grows up. Somehow I don't think I will be shedding any tears the first time he sleeps through the night. In the mean time I have a dilemma on my hands. Pacifier. Yes or No. Everyone says how great they are, I tried a few times to get Anthony to take one but he would just spit it out, then under the advice of my friend
Amy
, I sort of forced it on him. Meaning I held it in his mouth until he started sucking. Okay so now he likes the pacifier. Thanks to the pacifier, I had a great couple of days with him, I was able to stretch out the feedings just a bit which helped get some much needed shopping done. The problem was last night when he kept losing the pacifier and it would wake him up and he would cry. So unless I slept with my hand holding the pacifier in his mouth, neither of us was getting any sleep. So I decided to ditch the pacifier and make him fall asleep without it. 3 hours later and another feeding and he was finally asleep without it. Now I'm afraid to give it back to him because I don't want another night like last night. Maybe once he's big enough to put it in his own mouth I'll give it back. Although we are going to NY the day after Christmas to visit my family and it's a debatable 8-12 hour drive. I say debatable because it should, mileage wise, only take 8 hours, but every time someone in our family makes the trip, it always takes much longer. I think were just really poky and like to stop a lot. Anyway, I may break down and give him the pacifier for the trip.
Today Anthony got his first bath! Real bath that is, I have been sponge bathing him, but yesterday his cord fell off so I could give him a tub bath. He was not happy at first, but eventually seemed to like it!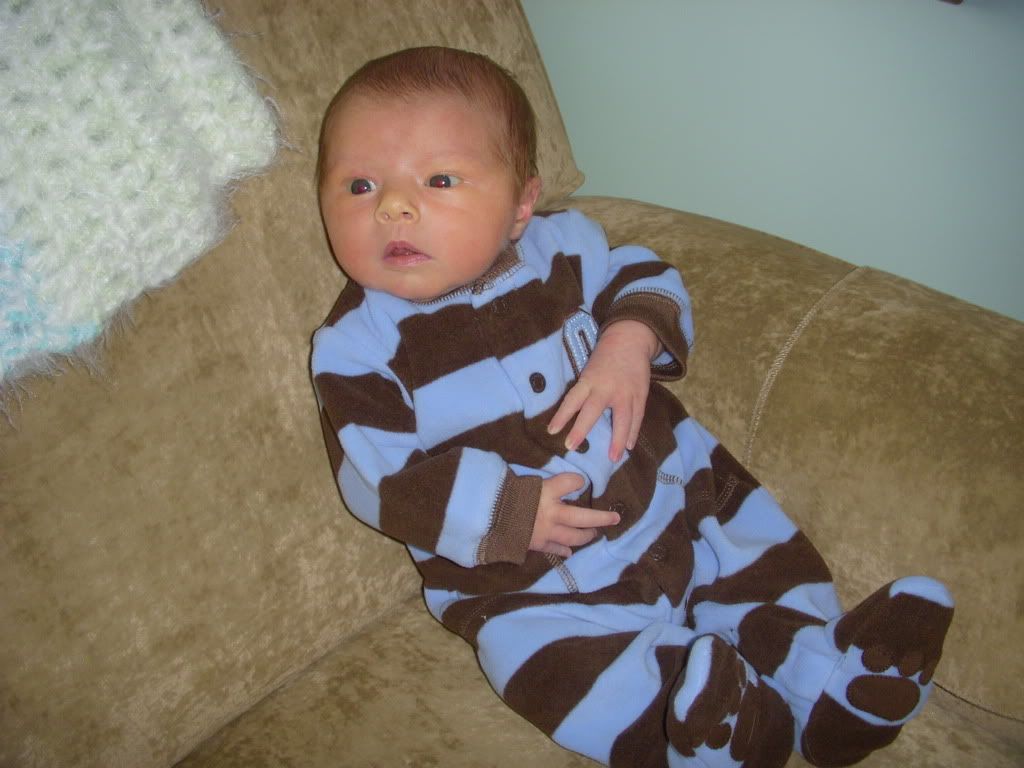 All dressed and ready to go run errands with mom.
Todd has been sick the past 2 days, so I have been parenting solo to avoid getting myself or the baby sick. I think he's feeling better today, even though he is still complaining a lot. He is moving around the house more and actually ate some food, so I made him take care of Anthony for a couple hours so I could get a nap. Now I'm rested and ready for whatever Anthony decides to do tonight, sleep or cry.