I'm feeling the need to blog, yet nothing great comes to mind as to what to blog about. I have sort of had a flight of ideas but none of them significant enough to have a blog post of their own. So her are a few random thoughts:
1. BRRRR it's cold outside! Yesterday it was 73 degrees and sunny, and today it is 49 degrees, cloudy, and drizzly and very cold! I guess were not getting fall around here! Just summer and winter. I have enjoyed the prolonged summer, but such drastic temperature changes are not fun at all.
2. I am getting a garage! YEAH!!!! Did I mention that I wanted one? Yes, Todd wanted one too, but I think he put it all on me when getting the OK from his parents who own the house a
nd land. He denies this of course but he slipped up one time and said that they told him "lots of people have babies and don't have garages". That was one of my reasons for wanting a garage, 1 to store things we don't use all the time (like a stroller) and 2 because I didn't want to have to be loading the baby in and out of the car in the cold and snow. So he either used my reasoning as his own, or he put it all on me wanting the garage! I think the later is true, but either way, I'm so thankful to be getting a garage so I guess it doesn't really matter.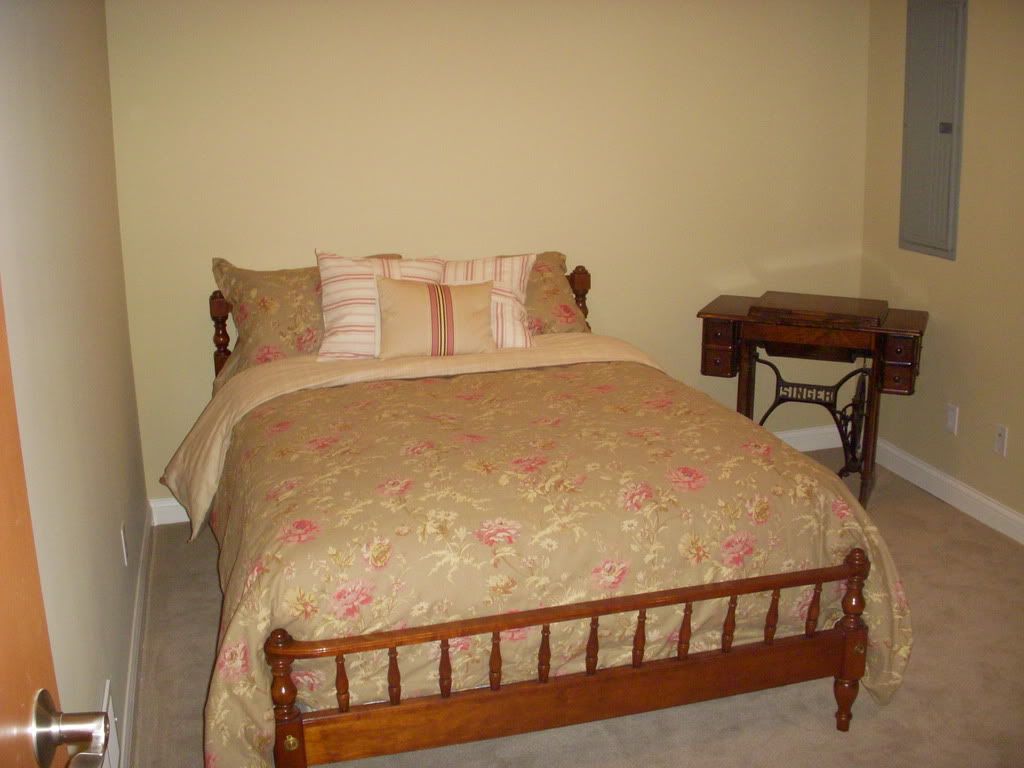 3. I finally got the guest room moved out of the new baby's room and to the spare room in the basement. It is now painted the proper color and the furniture is in place. Now I just need some decorative touches and it will be perfect. Any suggestions as to what to cover that big electrical box in the corner with? It is an odd 16X40 inches and they just don't make many pictures that size. I'm thinking about a custom made cork board or fabric covered board with ribbon to hold photos, but really not sure yet. If you have any creative ideas let me know.
4. I finally got the crib put together. Rachael gave me her crib since she is done having b
abies. But you know how it goes, as soon as you say your done and give everything away.....
But seriously, she gave me a crib in 5 pieces and a jar of screws of different sizes with no directions, so I was pretty impressed that I was able to figure it out without too much distress all by myself. Now I just need to get a new mattress and I can make the bed. I of course need Rachael to show me how to adjust the crib first, apparently it has 3 positions for the mattress and I can only figure out 1. Oh and the room is all painted! Just need to finish the football field mural.
5. Today is Emergency nurses day! I didn't know such a day existed and I've been an ER nurse for 4 years now. But I heard it on the radio so it must be true. I guess the hospitals don't want us to know about it, otherwise they might have to acknowledge us in some way.
6. I am a bad meat cooker! I've been a vegetarian my whole life, Todd is not, so
this meat thing is very foreign to me. I have tried for almost 2 years now to make decent things containing meat, but it is very hard to look at a recipe and know if it will be good or not. Oh well it's not like he didn't know this when he married me, and at least I try, maybe in 5 years I will have perfected a few more things. Last night I made a steak marinated in a Jack Daniels marinade sauce I saw at the store and thought sounded good (from a meat eaters point of view) but it didn't turn out so good. So tonight I decided to convert one of my favorite vegetarian recipes into a meat dish and see if it's as good with real meat as fake meat. Of course we'll never really know, because I wont try his version and he wont try mine. Todd is as much apposed to fake meat as I am to real meat. The recipe I made is called 5 Can Casserole. It uses 5 cans, that's where the name comes from.
Here is the finished product. And here's the recipe if your feeling like a little 5 Can Casserole yourself.
1 can vegeburger (or 1 pound ground beef for non vegetarians)
1 can celery soup
1 can mushroom soup
1 can tomato soup
1 can enchalada sauce
1 diced onion
1 pkg shredded cheese
1 pkg corn tortillas
Saute vegeburger and onions. Add cans of soup and enchalada sauce. Mix well. In a 9x13 baking dish, place a layer of tortillas, the filling, and cheese, repeat 3 times. Bake at 350 degrees until cheese melts. About 20-30 minutes. Enjoy!