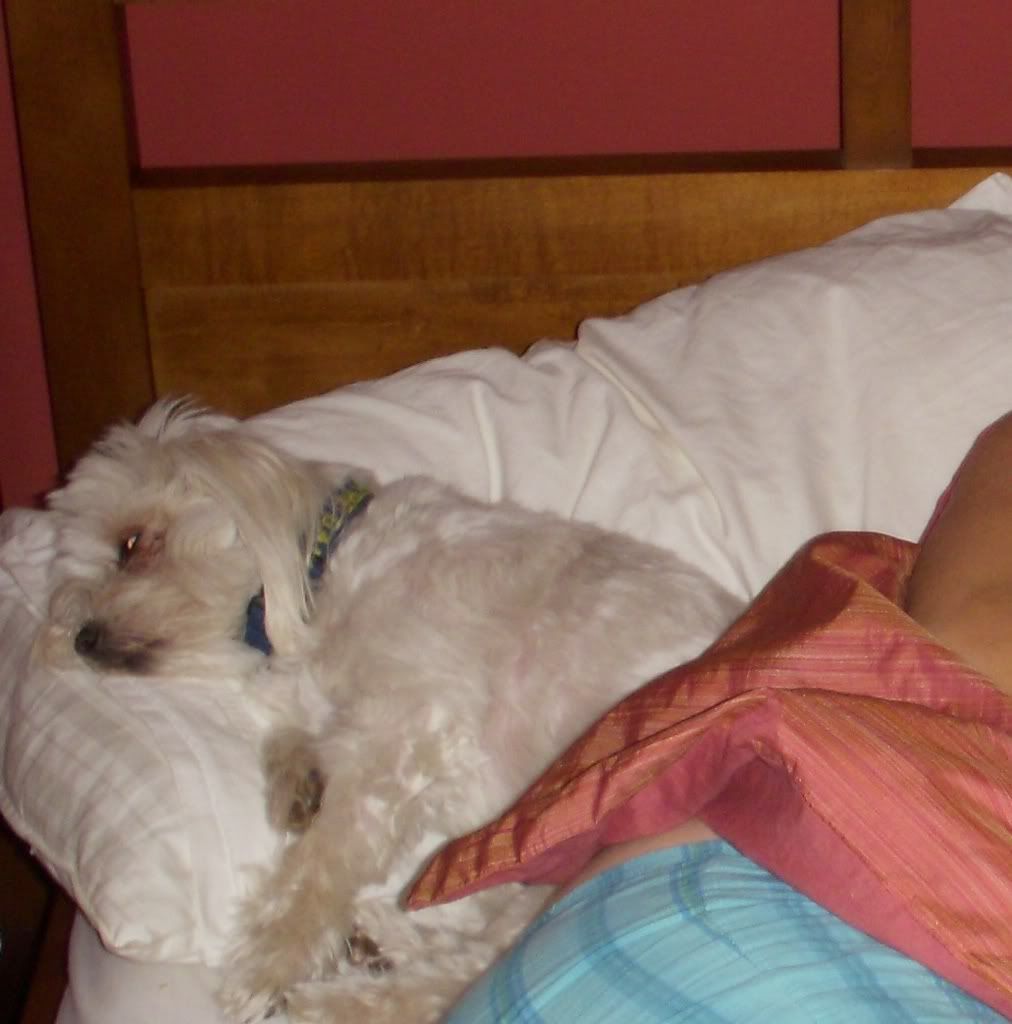 My Sunday started off with a short 4 hours of sleep for me after working all night and a very long night (all night plus the 4 hours he slept with me) for Brewster! He thinks he has just as much right to the pillows as I do. I woke up to Todd taking our picture.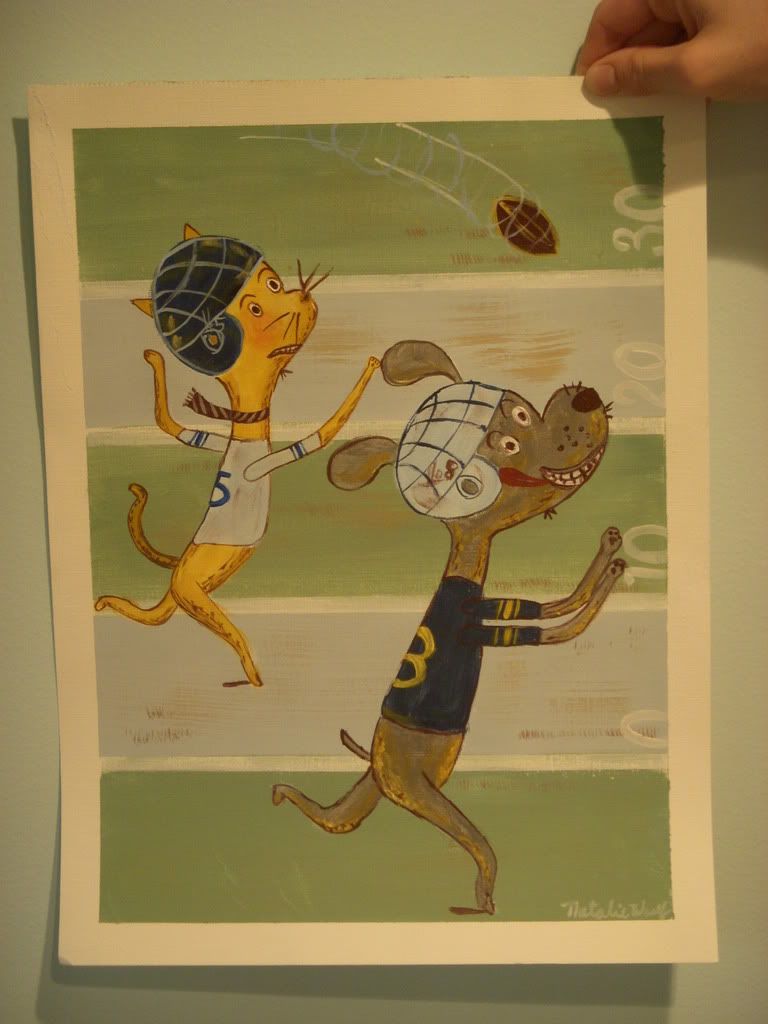 Then it was off to pick up
Rachael
and Natalie and head to Ace Hardware to pick out some paint! We finally decided to paint the baby room. When Natalie painted me this very cute picture, we got the inspiration we were looking for to get started. The theme is now football.
The colors of the picture match my
baby bedding
very well. We painted the room blue and are going to recreate a football field on one wall in the room that will look somewhat like the one in the picture. Since Natalie did such a good job on the painting, she has been given the job of painting me a few more pictures to go with it. She is going to paint a cat/dog (whatever that animal is) kicking a field goal, and another one of a coach on the sidelines (again a cat/dog) that resembles Charlie Weis.
(Notre Dames head coach)
We have a few other ideas for a couple more pictures, maybe a jersey with C******** on it and the no 07 (for the year he's born), and maybe another picture of a football or something. Any suggestions welcome. I can't wait till it's all done. I hope Natalie has the motivation to get them done quickly, she tends to get bored easily and this is a big task for her. I'll keep on her this week and maybe she'll get them done before she comes back into town next weekend.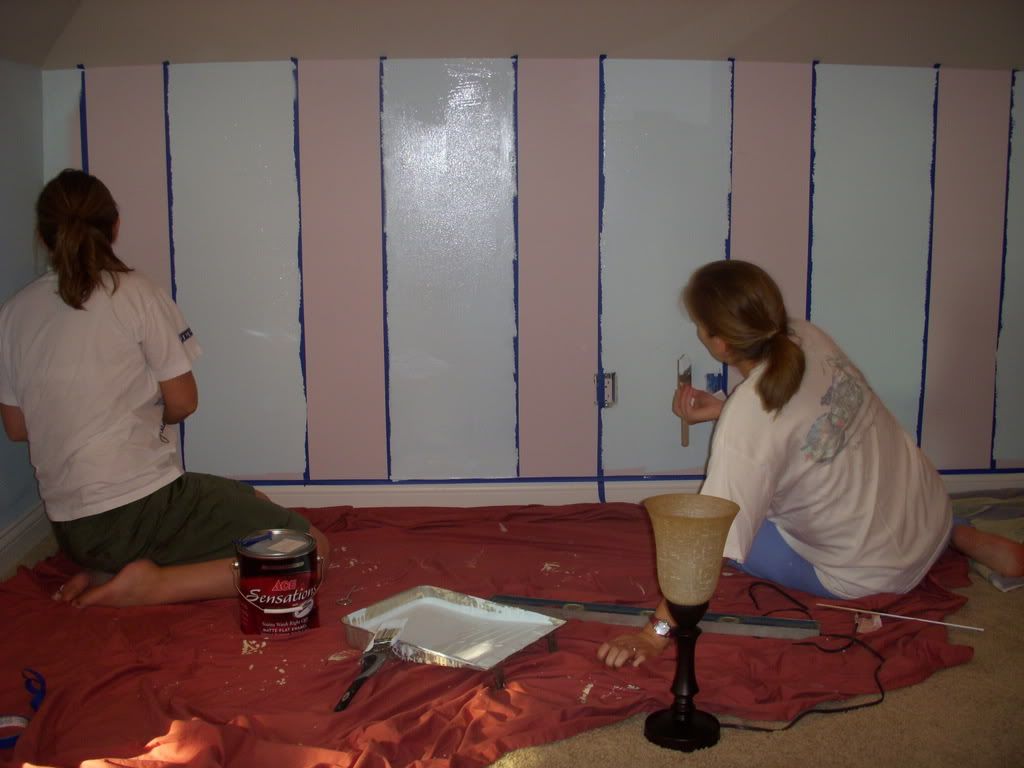 Here is Rachael and I in the early stages of creating our mural of a football field. Todd was our photographer/entertainer while we painted. He was very resistant to actually helping, he just wanted to watch and talk. He claims he didn't want to get in the way of sisters bonding, which we weren't buying. I begged him to go and get a fan to help with the paint fumes and because we were hot, (a scorching 85 degrees outside) but it took Rachael teasing him that our baby might be somewhat mentally and or physically affected from being exposed to the fumes to get him to go and get the fan.
This is what we have done so far for the field. Now we just have to put the markings on it.

While we were all busy painting, Brewster was tormenting Natalie's kitten, or maybe it was the other way around! Neither one of them got hurt, at least not by each other. Todd did manage to drop a mattress on Brewster and he limped for a bit, but seems to have fully recovered.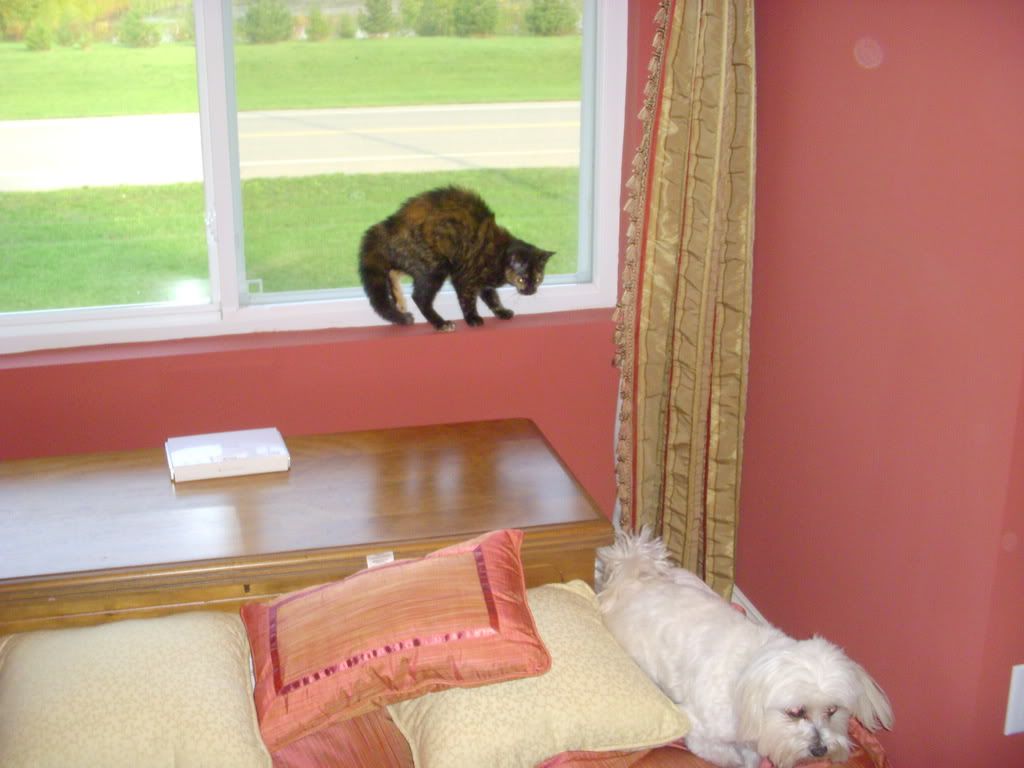 And with all that activity and only 4 hours of sleep I can't believe I am awake at 4 am blogging! I was so tired when I went to bed I didn't take a Benadryl like I have gotten into the habit of doing every night that I don't work. Apparently I am addicted, because this is the first time since I started taking it that I have been up in the middle of the night. Or maybe it had something to do with my slightly more than usual caffeine consumption. Oh well, I needed to catch up on my blogging anyway.

More pictures to come when the project is done!