...of Anthony, I would love to veg on the couch with the remote. I wouldn't even mind if I fell asleep.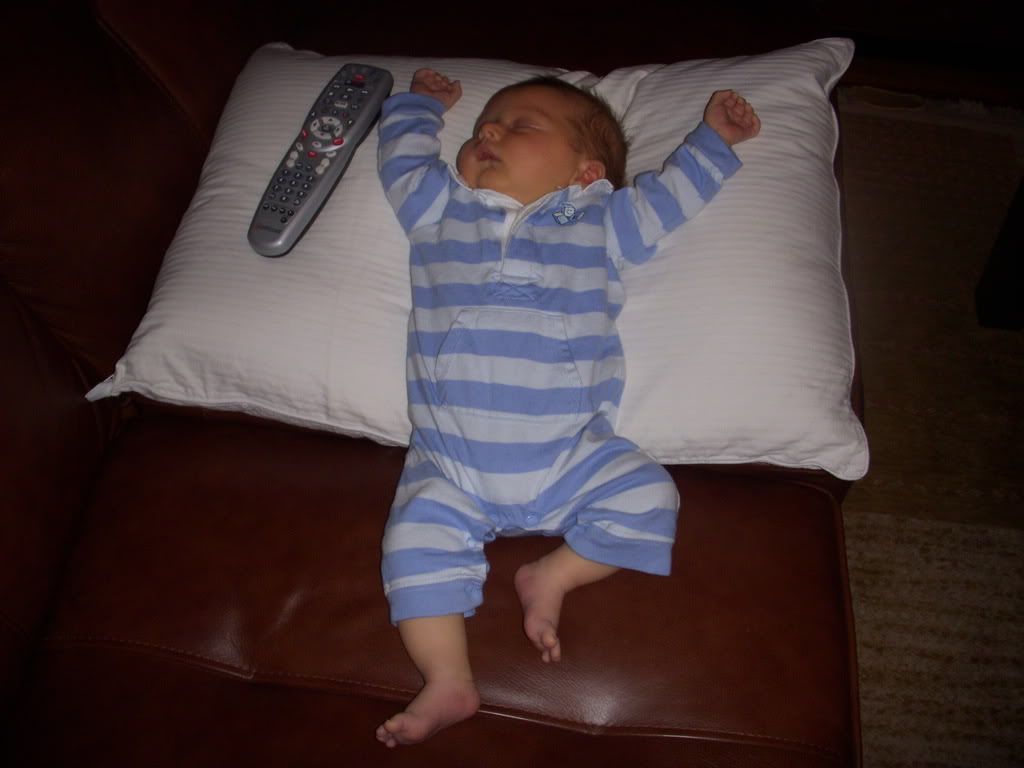 Unfortunately I have too much to do. The other day, Rachael posted about living in a state of CHAOS and I think I may have fallen into the same category. It must have something to do with having kid(s). I'm beginning to think my house will never be the same again.
With Christmas almost 2 weeks behind us, I think I might be the only one who still has my Christmas tree up. Today started out productive, I got all my baby announcements addressed and ready to be mailed, all 135 of them. Then some friends called and said they were coming by to visit. This is where my productivity stopped. I took a look around and realized that my house was in a sad state of CHAOS (can't have anyone over syndrome) and I had not showered yet for the day. Since I only had about 20 minutes before they would arrive, I had to make a choice, clean up the house or myself. This was a tough choice because I had missed a shower yesterday because I was running late for my nieces birthday party so I planned to shower at night, but then Todd decided to put the baby to sleep in the bathroom. He seems to sleep well with the fan on and so Todd thought if we put the bassinet in the bathroom Anthony would sleep better and as a result we could get a bit more sleep too. So even though I was going on day 3 without a shower, (yes embarrassing, but I'm sure it's happened to you too) I still opted to do damage control on the house. Although in 20 minutes all I could really do was shuffle the piles of stuff to other parts of the house that they would not see. I learned this trick from my siblings, we could clean house like you wouldn't believe in about 5 minutes if we had to, but if you looked closely you might find dirty dishes hidden in the oven, clothes shoved under beds... you get the idea.

Tomorrow is my sister Francie's day off, she called and said she wanted to come over and hang out with me and Anthony, and maybe we could go to lunch and a matinee. I thought it was a good idea, but now I think I will have her help me take down my tree and straighten up the house instead. She'll be so excited. I don't think I will tell her about the change in plans until she gets here. (haha)


My 100th post is just around the corner and I really wanted to do the traditional 100 things about me post, but I'm not sure I have the time. So I may or may not do it, but I do like Mandy Lou's idea of posting a picture a day. Even if I don't have a lot of time, I can at least do that. It will be a great way to remember my first year with Anthony.

In case your wondering, I did finally get a shower today. Showering does trump blogging.